Restaurant Odeon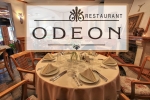 Address:
Midtown, ul. Otec Paisii 40
Open
: 12:00 - 24:00 без Неделя
Phone
:
0887976890, 0889465723
Here everything is real – oak furniture, brackets and painted glass by Ivan Lambev, pictures of Plovdiv artists – Angel Vasilev, Zdravko Jonchev, Vasil Stoev, Nasko Hranov, the ceramic articles of Tzvetana Peeva - The Countess. Because truth leads life – hardly is there a man who can resist the temptation of tasting a small loaf, toasted at that place, at Plovdiv intelligentsia home...
Restaurant Odeon
. is a restaurant in plovdiv, Bulgaria. The restaurant is located in Midtown. The address of restaurant Restaurant Odeon is ul. Otec Paisii 40 . You can contact the venue at the following telephone 0887976890, 0889465723, you need to add 00359 if you call outside Bulgaria. If the information about Restaurant Odeon is not accurate, please inform us.